Tempura Prawn Ichiban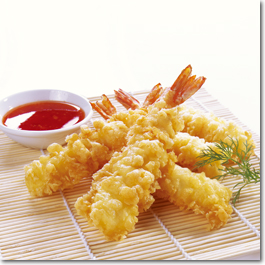 Japanese Tempura Chef's expertise creates superb hand-made tempura prawns on the processing line. Succulent, tender prawns are lightly coated in Japanese-style tempura batter.
PACKING STYLE
16-20 (TPRJP16): 8pc / inner
6 x 300g / MC
21-25 (TPRJP21): 9pc / inner
6 x 260g / MC
31-40 (TPRJP31): 10pc / inner
6 x 220g / MC
COOKING INSTRUCTIONS
Deep fry in pre-heated oil at 180°C for approx. 2 and a half minutes for 16-20, 2 minutes for 21-25 and 1 and a half minutes for 31-40. Do not thaw before cooking and do not overcook as this causes the prawns to shrink.