Breaded Prawn Burger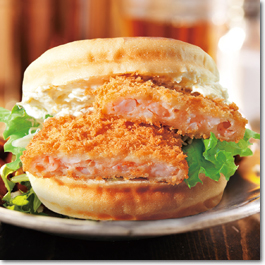 Prawn burger with "fair dinkum" prawns, encased in a light golden crumb, adds a refreshing change to the fast food menu. Versatile enough to be served as a traditional burger, or as a meal with rice and teriyaki sauce.
PACKING STYLE
90g (LPBUR90): 90g x 10pc x 5
COOKING INSTRUCTIONS
Deep fry: Put frozen prawn burger into hot cooking oil (180°C) and cook for 4 and a half to 5 minutes, turning as you cook, unitl golden brown. Drain well and serve. Shallow fry: Pre-heat 5mm of cooking oil to medium high in bottom of pan. Fry in a covered pan for 2-3 minutes each side. Drain well and serve.